---
Khupe / Heymisher
Khupe
Heymisher
Yellowjacket Music, Germany CD 010403, 2003
To purchase:
Germany: www.khupe.de
USA: www.cdbaby.com

I'll make it easy for you. No need to waste time reading this review. Head over to your nearest purveyor of fine music and pick up this CD now. It's that good.
This is the year of wonderful, amazing instrumental music. There was Adrianne Greenbaum's "Fleytmuzik". Then Kurt and Anna Bjorling's Duo Controverso in "Gedanken". Now, this second Khupe is more of the same, but, of course, deeply special in its own way. Clarinetist Christian Dawid and accordionist Sanne Möricke have tremendous fun exploring klezmer music and beyond. The joy and energy are apparent from the opening title track, "heymisher", through the more traditional "freylakhs," and onward. This is an album to listen to carefully, or to put on the CD changer when you simply want to feel good.
I could spend ages describing each tune. I am blown away each time I hear "Boibriker" or "Nakhes," building slowly, or "Tsu der khupe" for the intense beauty of the pieces. As a newlywed person, myself, the latter song encompasses not only the music that was played as we walked down the aisle, but all of the seriousness and intensity, followed by glee and joy, that were the event, itself. Meta klezmer as it were :-). Alternately, the wild part of the "Rumeynish" reminds me very much of the music that caused Eastern European friends to exclaim "Romanian" when I played bluegrass for them years ago. To have that slide right into "Yikhes", evoking the Epstein Brothers signature riffs, is a form of perfection.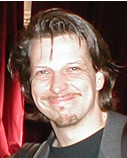 I guess it's no accident that I keep running into Christian around town, playing with Brave Old World, or filling in wherever someone needs an incredibly expressive clarinet player. Sanne's accordion is nothing to sneeze at, either. As one of the anchors of Sukke, and a frequent member of Frank London's Klezmer AllStars, she, too is delightful. Her own compositions: "Gliner," for instance, are an amazing blend of traditional and contemporary; of klezmer and everything else we listen to. This is an album of duets, two amazing musicians, deeply comfortable with one another, sharing and thrilling together. There is one exception to this. There is a bonus track. It appears to involved overdumming. It also includes participation by two young children, Jascha and Sarah. No Yiddish was mangled in the making of this recording.
As Alan Bern writes in the album notes, "[what] you hear on this CD adds up to something you could call the contemporary klezmer music 'tradition,' starting from the one we've inherited and continuing through to the one we make ourselves by dwelling together in music." Indeed, for an album that you can't dance to--that is perfect for listening, instead, this is very much klezmer placed in this time and place, klezmer played in a way that is different from what has come before, and yet entirely in the mainstream of the best that klezmer sounds like. It's music worth hearing. It's music especially joy-creating to listen to.
Reviewed by Ari Davidow 7/26/03
Personnel this recording:
Christian Dawid: clarinet
Sanne Möricke: accordion

Songs
Heymisher (Tarras, Dawid) 1:58
Freylekhs (trad.) 3:33
Tsu der khupe (Dawid, trad.) 6:06
D Freygish (Dawid) 1:58
Rumeynish (trad.) 3:45
Yikhes (trad.) 4:15
Boibriker (trad.) 4:20
A Freygish (Dawid) 1:06
Nakhes (trad.) 1:57
Skotshne (trad.) 1:10
Grikhisher (trad.) 1:43
Moldover (Möricke, trad.) 2:55
Khasene (Tarras) 1:36
Reb yidl (trad.) 1:37
Kolomeykes (trad.) 2:56
Gliner (Möricke, trad.) 5:58
Krokever (Dawid, trad.) 7:10
Gute nakht (trad.) 1:28