Bands and Performing Groups: Klezmer, Jewish, and Related or Derivative musics
Wait until the entire page loads before you click on a letter or scroll down--if the letter you pick hasn't loaded, the link won't work and then you'll have to reload the page and wait.
A | B | C | D | E | F | G | H | I | J | K | L | M | N | O | P | Q | R | S | T | U | V | W | X | Y | Z
Klezmer Bands, "S"
Sabbath Hela Vecken is a Swedish Klezmer band. I had fun reviewing their first album, "Klez". A third CD, "Shadows" was released in 2004. Web: www.sabbathhelaveckan.se. (Peter Bothén)
The Salt Wives are a Vermont/Boston based trio consisting of violin, accordion, and euphonium. They play a mix of traditional klezmer and Balkan music, originals, and songs with a radical leftist bent. Tel: (802) 310-6711. (David Symons)
Samchenu Orchestra - Premier Jewish Band in Los Angeles. Guaranteed to liven up any party. Many years of Experience in the Jewish Music industry, anywhere from a one man band to a 40 Piece Orchestra. We work with our core musicians to deliver crisp, authentic, and energetic music! We do Weddings, Bar/Bat Mitzvahs, Banquets, Concerts, Acapella, Yeshivish, Jewish, Sfaradi/Mizrachi, and Contemporary. Once you hear the difference in our music, you will be hooked! Tel: 310-600-8580. Web: www.Samchenu.com.
Sampo Lassila Narinkka is a new northern klezmer from Helsinki, Finland. This trio of double bass, viola pomposa and accordion plays klezmer in their own style called suomiklezmer. Music is mostly new and original Finnish klezmer with a lot influences from chamber music, jazz and modern sound worlds. Both albums of this trio have raised to Top20 in international world music charts, "Suomiklezmer" 2013 and "In Strange Lands" 2016. The group, led by double bassist Sampo Lassila has performed in Finland, Germany, Sweden and Island. Members Harri Kuusijärvi, accordion - Sampo Lassila, double bass - Aleksi Trygg, viola pomposa. Mail: Helytie 10a, 00950 Helsinki. Tel +358456778767. Web: www.narinkka.com.
The San Francisco Klezmer Experience is now known as Klez-X
Hank Sapoznik and the Youngers of Zion offers traditional acoustic Yiddish dance music and song performed by three master musicians: Henry Sapoznik: tenor banjo and vocals; Cookie Segelstein: violin; Mark Rubin: tuba and string bass. Web: www.youngersofzion.com. (Mark Rubin)
Sasson performs traditional and original Jewish music from around the world: klezmer, mizrahi, chasidic, samba, reggae, funk, forro, (all kinds of dance music). Tel: Keith Judelman (206)419-3868 / Benjamin Gown (206) 683-7026. Web: www.sassonband.com.
Schmalts Klezmer Ensemble is here to please your ear! Our San Diego, CA, Jewish group combines professional and recreational musicians: violins (fiddle), accordion, guitar, harmonica, mandolin, keyboard, vocals & percussion. Schmalts is a good Yiddish word, which means fat, and has a joyful connotation. Our band entertains in all music styles: Klezmer, Israeli, Dance, Yiddish, Sephardic, Hassidic, and more. Contact Doron Peisic, Klezmer Music Director: 858-229-0943. Web: www.Schmalts.com. (David Gmach)
Schmarowotsnik based in Kiel, Germany, is a duo with oboe/cor anglais and accordion. We play instrumental klezmer and some other, mainly eastern-european, some scandinavian folk music, and sing yiddish songs. In 2010, we released our first CD, "lider", in honour to the great yiddish poet Rajzel Zychlinski (1910–2001). It contains a selection of her poems set to music, played and sung by Schmarowotsnik. Since then, we have composed more songs based on yiddish poetry by various authors. Tel: +49 (0)431 149 03 06. Web: www.schmarowotsnik.de. (Christine v. Bülow)
Schpilkas was formed in 2001 by Haukur Gröndal (clarinet) from Iceland and the icelandic percussionist Helgi Sv. Helgason (drums, percussion). From the beginning the idea was to play klezmer music and check out different balkan styles, greek, bulgarian and macedonian. They decided to get the Danes Nicholas Kingo (accordion) and Peter Jørgensen (double bass) to play with them. In the year 2002 the group played on different venues in Copenhagen and the rest of Denmark. In august 2002 the group did it´s first tour to Iceland. In february 2003 the group recorded their first album "Sey mir gesunt". Released on "Rodent" and distributed by "12 Tónar" in Reykjavik. Current line up is: Haukur Gröndal clarinet, saxophone, Thomas Caudery trumpet, Nicholas Kingo accordion, Rasmus Moldrup double bass and Anders Provis drums. Web: www.schpilkas.net. (Haukur Gröndal)
Sebes Duo, Veneto, Italy. An eclectic way of approaching klezmer music, starting from Roumanian music, classical hungarian music (Bela Bartok, Franz Listz) and jazzy styles of romanian urban gipsies. The two musicians are: Giovanni De Cecco: piano, toy piano, caval, fluier (roumanian flute), zongora (maramures guitar); Francesco Socal: clarinet, bass clarinet, tenor sax. Tel: 0039 1471581706. We are on YouTube: www.youtube.com/watch?v=6DNvPOuG9-E. Web: www.giovannidececco.com. (Giovanni De Cecco)
Sefiroth is a 10-piece electroacoustic chamber ensemble playing contemporary interpretations of traditional Sephardic (Judeo-Spanish) repertoire, much of which dates back to the Medieval period and draws upon Arabic, Turkish, Greek and Eastern European influences. The musicians in the ensemble represent several nationalities and between them are versed in a wide range of musical idioms including Balkan, Middle Eastern, Arabic, klezmer, rock, jazz, early and contemporary classical, electronic and improvised music. Sefiroth are based in London, UK. Olesya Zdorovetska: Voice; Alice Zawadzki: Voice, Violin; Nick Roth: Saxophones, Furulya; Alex Bonney: Trumpet, Electronics; Paul Tkachenko: Euphonium, Tuba; Shirley Smart: Cello; Alex Roth: Guitars; Francesco Turrisi: Piano, Percussion; Ruth Goller: Electric Bass; Simon Roth: Drums, Percussion. Web: sefiroth.bandcamp.com.
The Second Avenue Klezmer Ensemble, based in San Diego, CA, is a five member group dedicated to performance of Jewish music. They are well known for their lively, traditional performances of Eastern European Klezmer, Ladino folk tunes and the songs of the Yiddish musical theatre. Soprano Deborah Davis specializes in singing in Yiddish, Ladino and Hebrew. Robert Zelickman often amazes audiences with his mastery of three clarinets, including the sonorous bass. Guitarist Jiri Svoboda, renowned Bassist Bertram Turetzky and drummer Bob Weller complete the Ensemble's thrilling musical core. The Ensemble is the recipient of three touring grants from the California Arts Council. They are available for concerts, workshops and lectures. They released "For our mothers" in 1999. Tel: 619-275-1539. (Deborah Davis).
Berlin's very own orchestra special! Weaving, whirling, crashing, diving and bobbing eastern and western European lines and tunes in and out of each other. The 17 Hippies started in the spring of 1995 as a trio playing French bourrées and Cajun tunes. The trio mutated into an orchestra playing mainly non vocal music from around the world: Bavarian zwiefacher, Russian songs, Polish waltzes, Swiss zweutletscht, Jewish freylaks, Anglo American popsongs, Corsican dances, Scottish flings, Bulgarian oros, French chansons, Hungarian melodies, Latin-American tunes, North American ragtimes and more. After an original soundtrack album for the celebrated Film HALBE TREPPE the band's recent CD IFNI (just released on HIPSTER Records in January 2004 and distributed in the Netherlands by Xango Music Distribution) features our more song-oriented material. Featured is the tune "Marlène" that is in frequent rotation in France. The 13 to 17 musicians of the ensemble that (at any given time, and among other instruments) play accordion, trombone, trumpet, violin, cello, clarinet, mandolin, ukulele, banjo, guitar, double bass and sing, have musical backgrouns that range from rock-pop to classic and jazz. After starting their carreer playing weddings, opening day parties, baptisms the band has collected a sizable audience in Germany and France (their last concert in Berlin turned out more than 5.000!) and has brought them to reknown festival-stages throughout Europe. Outside Germany and France gigs were staged in Russia, Italy, the Chec Republic, Hungary, Vienna, Amsterdam, Monaco and the States. Web: https://www.17hippies.de. (Henry Notroff)
Shalom Aloha is now playing klezmer in the Yiddish, Hebrew, Ladino and Island Style in the Honolulu area. Add some freylach to your luau! (Suska Varda)
Shaya & Rafi, Los Angeles, CA, USA. We play Israeli, Greek & other Mediterranean music. Tel: 818-640-1644 (Shaya). Web: www.youtube.com/watch?v=MMXlNctaRw0. (Rafi)
The Shevet Achim Ensemble is an ensemble playing Jewish melodies in a style based on klezmer and classical influences. Based in Jerusalem, Israel, their music is uplifting while delicate and soothing. Flute, clarinet, violin, harp, piano and some cello, string bass and piccolo blend in harmony and countermelodies on their recordings. In concert the ladies of the ensemble perform on violins, flute, accompanied by harp and/or piano. Their latest album, "Beyond the Sounds" has been praised in Israel as "top notch". Tel: 972-(0)2-535-5588. Web: shevet-achim.tk. (Dvorah Belenky)
<! -- new 7/14/13 -->
Formed on a Saturday night in the Laurentian Mountains in Quebec, Siach HaSadeh, based in Montreal, Canada, explores and performs off the beaten track Chassidic and spiritual Jewish melodies, primarily from the early sages of the Chassidic movement, as well as some piyutim from the Eastern Jewish traditions—music that was used to express the deepest emotions, and to attain spiritual heights and closeness to the Creator, in dveikus. Much of the repertoire comes from transcriptions from songs as they are sung in the Chassidic communities of today, as well as from early 20th century recordings from Eastern Europe, and a collection of the transcriptions from a long lost uncle from Staszow, Poland, of songs he remembered from before the War. The approach to the material is reverential, and minimalist, but allows for improvisation and self expression from the voices of the two musicians (and guests)—drawing on their diverse musical backgrounds and experience, without losing touch with the original intent. Web: www.siachhasadeh.com. (Yoni Kaston)
Trio Shalva is based in Dobbs Ferry, NY. In 2009, three Israeli-born musicians: Assaf Gleizner (Piano, Melodica); Koby Hayon (Bass, Acoustic Guitar, Oud); and Nadav Snir-Zelniker (Drums, Percussion) came together for their first gig. They performed original compositions and arrangements of traditional Israeli repertoire. They chose a name based on the Hebrew word for "serenity". The trio explores both new and arranged compositions, combining elements of Jazz with Middle- Eastern, Israeli & Jewish influences. Their first CD, "Riding Alone", was released in 2011. Tel: 914-419-5099. Web: www.trioshalva.com. (Assaf Gleizner)
Shamalamacord, Bay Area and Los Angeles, CA, is Mike Penny on Tsugaru Shamisen and Aaron Seeman (Duckmandu) on Accordion. They formed an essential element of the acclaimed Gypsy band, "Fishtank Ensemble." Shamalamacord draws from a wide range of styles, including Balkan Gypsy music, Classical, Klezmer, 1920's Jazz, traditional and popular Japanese Music, and original compositions. As a duo and as solo players they are each actively engaged in ..extending the capabilities of their instruments. The Tsugaru shamisen is the most powerful sounding and popular of the three major types of shamisen, the Tsugaru style comes from Northern Japan. It has enjoyed a resurgence among young people in the last twenty years in Japan, and is therefore a tradition very much alive. Tel: (510) 601-1117. Web: www.shamalamacord.com. (Aaron Seeman)
The Barry Shapiro Orchestra (BSO), Boston, MA, has been around since 1984. We play a wide variety of music but specialize in Jewish music. Everything from klezmer to Israeli folk dance with a little swing and rock and roll thrown in for good measure. Barry Shapiro, one of the founding members of the Klezmer Conservatory Band and Shirim, will make sure your event will go smoothly. Call 617-783-6341. (Barry Shapiro)
Shawn's Kugel is now known as "Kugel
Die Sheine Meidl un dem Schmendriks is Temple Israel's Klezmer Band in its 3rd year (2008). Simply put, we are a whole bunch of guys and a lady (or two) who love music and the energy that only Klezmer music can bring to both musicians and audience. Contact: Cantor Rogerio Marx, Temple Israel, 600 New Scotland Ave., Albany, NY 12208. Tel: 518-438-7858, ext 3. (Cantor Rogerio Marx)
She'koyokh Klezmer Ensemble (which means 'good on yer' in Yiddish), is based in London, UK. We are a 3-7 piece klezmer band; clarinet, violin, guitar, accordion, mandolin, double bass, percussion. Formed in 2001, this experienced and sought-after band have played hundreds of weddings and barmitzvahs in the UK and abroad, as well as concert halls such as the Concertgebouw in Amsterdam, and Jewish Music festivals in Germany and Poland. Tel: Susi +44 (0)7970 383 424. Web: www.shekoyokh.co.uk. (Susi Evans)
Merlin Shepherd Kapelye featuring the Former Soviet Union Klezmer Allstars, based in Brighton, UK. After teaching for many years at KlezKamp in the USA for many years, teaching "ear band" a large dance band that plays for evening dance sessions. I found it harder and harder to bring new repertoire that no-one knew, the purpose being to learn tunes "by ear". For this reason I decided that the best approach would be to write my own tunes, in the style of old tunes, in no way as a form of "cultural counterfeit" but to re-juvenate the tradition, and to develop it, if you will. Having spent many years also working at several klezmer/yiddish events in the former Soviet Union, namely Kiev, Moscow, St. Petersburg and Kazan, I found myself in the company of a group of musicians who's artistry was a joy to behold. These players started as students but now have became colleagues. This is a compliment that it gives me great joy to pay them. I decided that I wanted to work more closely with them and see and hear them more often than once or twice a year. The resulting work became "Intimate Hopes & Terrors", released on Oriente Musik, (RIENCD58). It was reviewed and featured on the cover CD "Top of the World" in the March/April 2007 edition of Songlines. The band consists of 11 musicians, all of whom are soloists and teachers and professionals in their own right. Here we come together on a project that gives all of them a chance to shine, and gives a chance for them to be heard outside of their homelands. Please give respect and honour to this Kapelye, featuring the former Soviet Union Klezmer Allstars. Tel: +44 1273 55 37 37. Web: www.myspace.com/merlinshepherdkapelye.
Sherele is a quartet formed in Guadalajara, México. Klezmer mixed with argentinian and mexican folklore, jazz and sometimes rock. Our first CD is coming out soon. We are looking for someone to distribute in US and/or Europe. Web: www.myspace.com/shereles.
di Shikere Kapelye, also known as the "Frank London Klezmer Brass All-Stars" is an amazing brass ensemble bringing klezmer to balkan village music. Or perhaps, village music to Klezmer. It's a truly amazing ensemble. The first CD which I refuse to allow out of sight of the CD changer, is the eponymous "Shikere Kapelye" which was one of this site's top ten albums of 2000. A second CD, "Brotherhood of Brass", was released in Germany in the spring of 2002. Mark Rubin maintains a webpage at https://www.franklondon.com/. (notes: Ari Davidow)
Shir is a London, UK based Jewish music acoustic quartet (Maurice Chernick - clarinet/voice, Piotr Jordan - violin, Ivor Goldberg - acoustic guitar/voice, Steve Rose - acoustic bass) playing Jewish Traditional music, Klezmer, Israeli Folk, Yiddish and Simcha music. Tel: 020 8346 6923. Web: www.shirmusic.co.uk. (Maurice Chernick)
Shir Elan is an acoustic folk duo playing traditional Jewish folk music in the Boston Metrowest and I-495 corridor area. Tel: 978 568-9553. Web: www.shirelan.com. (Ed Hetzler)
Shir Madness is based in Boston, Massachusetts. We play at weddings, b'nei mitzvot, dances, block parties and other communtiy celebrations, and we're especially fond of playing in nursing homes for people who can sing along in Yiddish. Our repertoire is a mix of Yiddish show tunes and ballads, transcriptions of recordings from the golden age (Dave Tarras, German Goldenshteyn, Naftule Brandwein and many others), music unearthed while scouring libraries, Balkan and Israeli tunes, and some things we have written ourselves. Whether the original source is jazz, swing or pop, if it's got roots in Yiddishkeit, we'll consider it. We're an eight-piece band, but when the occasion calls for it, we can play as a smaller ensemble. Tel: 617-332-2954. Web: www.shirmadness.org. (Richard Yospin)
Shira is a Madison, Wisconsin based band playing "Jumpin' Jazzy Jewish Music" for over a decade. It's a cross of traditional Jewish melodies and American jazz. The band released a CD called Soaked And Salted in 1995. Shira Music, PO Box 5593, Madison, WI 53705-0593. (608) 238-2452. Web: www.thecantorset.com. (Abigail Cantor)
Shira U'tfila, based in Belgrade, Serbia, is a bend playing sephardic music of the Balkans, Middle East and North Africa both in Ladino and Hebrew. We published three CDs and participated in many festivals. We are represented by the JCCAB (Jewish centre for Culture and Art Belgrade) phone number is +381 11 2442 414. Adrress is Marsala Birjuzova 19 11 000 Belgrade, Serbia. Web: www.stefansablic.com/Engleski/music.html. (Stefan Sablic)
Shirim Klezmer Orchestra is based in Boston, Massachusetts, where they play klezmer, Simcha music, and jazz and swing for weddings and Bar Mitzvahs. They have also recorded and toured extensively, including 7 CDs, and concerts and festivals in North America and Europe. Shirim started performing in 1982 at the beginning of the current klezmer revival and has performed across the United States, Canada and Europe. The band has collaborated with children's author/artist Maurice Sendak to create the Parent's Choice award winning "Pincus & the Pig," a Jewish/klezmer adaptation of "Peter and the Wolf" and won a Gracie Award for their Hannukah project with NPR's Ellen Kushner, "The Golden Dreydl: a Klezmer Nutcracker." Shirim is featured on the soundtrack of Woody Allen's "Deconstructing Harry" and has released seven recordings on the Tzadik, Rykodisc and Newport Classic labels. The band has performed with Peter Nero and the Philly Pops, the Niagara Symphony, and at major international jazz and klezmer festivals. Since spring 1996, Shirim has also performed as the more experimental Naftule's Dream. The band boasts members who are highly respected veterans of the klezmer revival: Glenn Dickson on clarinet; Dan Fox on trombone; Michael McLaughlin on piano and accordion; Jim Gray on tuba; Eric Rosenthal on drums; and Brandon Seabrook on banjo. Their concerts reflect both a seriousness of musicianship and a strong emotional resonance with the music. Web: www.shirim.com or call Eric Rosenthal at 617-522-2900.
?Shmaltz! is a band from Berlin playing its non-traditional style of Klezmer/Balkan music including influences from Cumbia, jazz and Filmmusic. ?shmaltz! uses a wide variety of instruments like musical saw, cimbalom, toypiano, bluesharp, caval, jawharps, banjo and trumpet-violin. The Band plays all kinds of events from weddings and small clubs to big festivals. Web: www.shmaltz.de. (Carsten Wegener)
Shoresh, Long Island, New York, is a vibrant 3-12 piece Klezmer band—playing authentic Klezmer as well as Israeli/Ladino/Yiddish, dance, dance, and even shtick comedy. Together since 2000 this lively band features clarinet, fiddles, mandolins, viola, flute, guitars, drums and harmonic vocals. The group plays for simchas, private parties, fundraiser events, dance, for all ages. Tel: 516-482-8353. (Noam Segal)
The Shpil performs klezmer standards and less-well-known melodies from the klezmer repertoire; Balkan and Eastern European tunes; Yiddish songs; and original compositions drawing on folk, tango, and other influences. Leaping shtetls and genres in a single bound, we play our irreverent interpretations at bars and Bar Mitzvahs. We are available for stage shows and private parties. Tel: 310-850-1550 (Claire). Web: www.myspace.com/theshpil.
The Shpilkes Klezmer Band brings the sound of Klezmer & Sephardic music to many congregational and community events and coffeehouses in the Boston area. Their lively blend of instrumental music and song captures the restless energy that defines shpilkes. The band consists of Barbara Green-Glaz: vocals; Arnie Harris: vocals, trombone, guitar; Fred Ledley: clarinets; Susan Silverman: flute; Jim Mavor: accordion; Pam Furey: drums; Alan Posner: trumpet; Dick Schoeller: bass, guitar, vocals. Shpilkes is available for events around the Boston area. Tel: 781-449-5476. Web: www.myspace.com/shpilkes. (Dick Schoeller)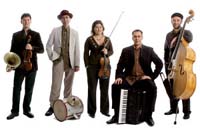 Shtetl Band Amsterdam is a five-piece klezmer band from the Netherlands, playing Village Klezmer: the old klezmer sound that for centuries predominated in Eastern Europan Jewish folk music. It is a small-town, small-band sound, emotional music played with virtuosity, for dancing and listening. After its start in 2006 Shtetl Band Amsterdam has rapidly become an inspired and much in-demand exponent of this Village Klezmer style. Having the violin's melody as its basis, the group's sound is mild, rich and nuanced. Band members are Bert Vos (violin, mandolin, founder, leader); Iefke Wang (violin, viola); Michiel Ockeloen (accordion), Gregor Schaefer (bassetl - small bowed bass, cello); Roberto Haliffi (poyk, drum set). Artistic leader is Gregor Schaefer (a former member of Dutch klezmer bands Di Fidl Kapelye and Mazzeltov), who also composes new material. Percussionist Roberto Haliffi founded and still plays with Amsterdam's jazz-klezmer group Klezmokum. Special guest Catherine Cormon joins in regularly to lead klezmer dances. Occasionaly Shtetl Band Amsterdam works with exceptional singer of Yiddish song Lucette van den Berg. Shtetl Band Amsterdam plays concerts, dance events and parties. Web: www.sba-klezmer.com. (Gregor Schaefer)
Specializing in a variety of traditional Jewish and contemporary American musical styles, the Richmond, CA-based Shtetlblasters is a multi-faceted musical ensemble that specializes in weddings, B'nai Mitzvah, and special events. The group's repertoire spans many styles and generations. The band is equally at home playing high-energy traditional Israeli folk dance music, soulful R&B dance hits, and big band tunes from the Glenn Miller/Duke Ellington era! The Shtetlblasters was founded in 1992 in Berkeley, California and is comprised of talented musicians from around the San Francisco Bay Area. The word Shtetlblasters is a play on the word "ghettoblaster", a slang term for a portable tape player or "boombox." The Shtetl is the word for the Eastern European Jewish villages where so much of our soulful music, including Klezmer, originated in centuries past. Tel: 510.287.2540. Web: www.maxjas.com/shtetl.htm. (Michael Gill)
The Shtetl Menschen, of Long Beach, CA, USA) are a volunteer band under the auspices of the Alpert Jewish Community Center of Long Beach, California. We usually number about 8 musicians. We've been together since August 1998, under the direction of Gordon Lentzner. Contact Joel Kizner MD (the banjo player) at 562-420-7268. (Joel Kizner)
The Shtetl Stompers are a rather international Klezmer band based in Paris, equally at home in bars, concerts halls and synagogues. The Shtetl Stompers is becoming a mainstay of the growing Paris Jewish music scene. Steeped in klezmer and yiddish song, we add a touch of Old Time Appalachian and other Americana to our very trad sound. We are - Albert Choukroun: clarinet; Eléonore Biezunski: fiddle, vocals; Ilan Moss: accordion, vocals; Stephen Harrison: double bass. Web: www.myspace.com/shtetlstompers. (Eléonore Biezunski)
If you like the harmonica you'll love Shtreiml. Founded in 2002, and based in Montreal, Quebec, Canada, the group blends klezmer, chasidic, gypsy and jazz to create an exciting amalgam of flavours and textures, while staying true to the traditional compositions. What makes this group especially unique however is its sparse makeup and somewhat unusual mix of instruments. The group features Jason Rosenblatt on harmonica and piano, Josh Dolgin on accordion, Thierry Arsenault on drums and Ariel Harrod on bass. The group's first CD was released in 2002: Harmonica Galitzianer. Spicy Paprikash followed in 2003. Tel: 514-481-6647 (Canada) / 610-667-1691 (US). Web: www.shtreiml.com. (Jason Rosenblatt)
Shulman's Klezmer and Swing Band, London, UK, perform a diverse range of lively traditional music from around the world, playing genres as wide ranging as Gypsy, Klezmer, Simcha music and swing. This band is equally at home playing for weddings and Barmitzvahs as it is for folk festivals and birthday parties. Tel: 00447947249811. Web: shulmansmusic.com. (Dave Shulman)
Shver un Shviger is a traditional klezmer band, based in the Boston, MA area, led by Yaron Shragai and Dan Salomon. We love to play for dance workshops and recreational folk dance groups. Can work with dance leaders or provide our own dance leadership. Band composition depends on the gig. Musicians who have performed with us include: Scott Arfin, Jon Cannon, Ben Pasamanick, Nat Seelen, Barry Shapiro, Henry Shapiro, Ariel Weinberg. (Yaron Shragai).
Shvil HeHalav, based in Safed, Israel, is a progresive hassidic funk, full of humor, spirituality, virtuoso improvisation and crazy rhythms! A renaissance of a 'new' old tradition! The band consists of Shani Ben Canar: composition, vocal, guitar, saz; Sania Kroitor: violin; Gershon Weisserfirer: oud; Valery Lipets: bass; Arkasha Zapesotsky: drums; Vitaly Podolsky: accordion. The album, "Ben-Canar and Shvil Hehalav" is reviewed on the KlezmerShack. Tel: +972 54 519 427. Web: www.bencanar.org.il/. (Shani Ben Canar).
Silicon Vibe. When you need the perfect band with the "Wow" factor, invite Silicon Vibe to your event. Our Jewish repertoire brings fun music to your bar/bat mitzvahs, wedding receptions, fundraiser, and community festival. We also have an extensive Big Band, Motown and contemporary library. Our instumentation varies from 2-4 vocalists, 3-6 horns, and a rhythm section. The ensemble includes alumni from The Ray Charles Band, The Temptations, The Four Tops, The Louis Bellson Orchestra and several others. One differentiator from the other party bands is our horns. Because we have 6 of them, we cover the Big Band material very well (in addition to the R&B, Motown, 80's, and recent Pop Stuff). Older audiences appreciate our treatment of the swing music/ballads (Sinatra, Etc) while younger audiences get into our modern stuff (like Shakira, Agulara, etc). It's a good span of audience tastes. Tel: 408.927.0854. Web: https://www.siliconvibe.com. (Carlos Almeida)
The Sim Shalom Klezmer Band is an X-piece hybrid band that plays both Jewish music and modern American popular secular styles (R&B, jazz, rock). We've been around for about twelve years in the Twin Cities area. The 5-piece Klezmer CD is done - let me know if you need a copy. The larger band CD is in pre-production, and will be available soon. The CD of the rest of the music is also done - the R&B, that is. The jazz stuff is in progress. Call me up!!! 612-232-3059. (Dave Haberman)
Simcha (formerly "Friends of Klezmer"), Columbia, SC. Founded to provide Jewish and Klezmer music for the local Columbia Jewish community, we now find ourselves travelling all over and are becoming very popular. Our group consists of keyboard, reed player on clarinets, tarogato,oboe & english horn, Violinist, guitar, bass and drummer. Tel: 803-787-6004. (Jay King)
The Simcha Band, Venice, Italy. We are young musicians from Venice, Italy. We are jewish and we play modern and traditional Jewish music. Our repertoire includes Klezmer, Yiddish Songs, Liturgical tunes, Israeli pop, European and American Jazz. Tel: + 39 02 320 62 88 43. (Amira Garine)
Matthew Reid is the Director and clarinettist of the Simcha Klezmerband, a Cape Town-based (South African) 6 piece band which plays concerts and at weddings and barmitzvahs. The band includes Bulgarian Stanislav Anguelov (Accordion), American Willie Haubrich (Trombone), Henrike Kovats (Double Bass), Briton Cheryl de Havilland (Cello and Percussion) and South Africans Titia Blake (Violin) and Matthew Reid (Clarinet/saxophone). Web: www.capeweddings.co.za/contracts/simcha/simcha.htm. (Matthew Reid)
Simchah! is the Klezmer band at the University of Virginia. It is composed of students, alumni and faculty and performs in the Charlottesville, VA area and has also played NYC, Richmond, VA and Washington, DC. Currently there are seven members in the band, which has been in existence since 1994. Last year we produced the CD "Shpil Es Nokh A Mol" and our new CD "Simchah!—the rye album" will be out in January 2006. Web: www.people.virginia.edu/~dae2s/Home.html. (Daniel A. Engel)
Simkhe is a trio based in Charlotte, South Carolina, consisting of clarinet, violin, and piano. We deliberately chose a name that would have a festive connotation and enable us to have flexibility with our instrumentation. The one constant, however, is that we perform Jewish repertoire; whether it is Klezmer, or music by Jewish composers, or music with some other Jewish connection. Tel: 704 365-2009. (Gene Kavadlo)
Simply Tsfat is a Chassidic trio, 2 guitars and a violin, 2 Americans and an Israeli. Niggunim, instrumentals, originals, suprises. Performances are dynamic and uplifting, including stories. Tel: +9724-692-1906 +97254-742466. Web: www.simplytsfat.com. (Elyahu Reiter)
Siora plays contemporary world jazz: a blend of music from Latin America, Europe, the Middle East, and the U.S., plus original compositions in English. Siora has performed throughout the U.S., in Latin America, and Europe. Siora features the multi-lingual singing of Phyllis Chapell, recently named as one of the top 500 jazz vocalists of all time (Scott Yanow The Jazz Singers: The Ultimate Guide). Siora's co-leaders Phyllis Chapell and Dan Kleiman have tapped into their Jewish musical roots to create a new direction and a new release, "The Vision of the Dry Bones". Inspired by a vision of the prophet Ezekiel--that of a vast expanse of dead, dry bones & gradually forming flesh and sinew & a people coming to life—Siora breathes new life into old forms, reinventing Jewish songs, flavored by world rhythms and jazz improvisations. One tradition is modified by another. Says Kleiman "First the Jew in us asks why, then the jazz musician asks why not?" The new Siora "Dry Bones" ensemble, led by pianist/composer Dan Kleiman, can include guest artists such as harmonica/wood flute virtuoso Howard Levy (Flecktones), world-reknowned jazz violinists Alex DePue, Diane Monroe or Randy Sabien, horn player extraordinaire Ken Ulansey, and drummers/percussionists Dane Richeson, Joseph Tayoun, Francois Zayas, among others. In their exuberant live show, traditional rhythms from Eastern Europe and Israel dance alongside—and sometimes within—a rich multi-cultural mosaic. Tel: 610-664-1673. Web: www.siorajazz.com. MySpace: www.myspacemusic.com/siorajewishjazzproject. (Phyllis Chapell)
Sisters of Sheynville: an all-female swing-klez band, based in Toronto, Canada. Founded in 2005, with an idea to bring to life Yiddish swing, klezmer and roots music inspired by the Barry Sisters of the 1930s-40s old time radio era. Over time, the band's repertoire grew to include new original songs and arrangements of both traditional and jazz material, with lyrics in Yiddish and English. The band has appeared at a number of festivals, theatres and concert series. Their new CD "Sheynville Express", produced by Eric Stein, was released in November, 2007, and is available on cdbaby.com. Myspace: www.myspace.com/sistersofsheynville. For bookings, or to be on the sisters' email list, contact www.sistersofsheynville.ca. (Lenka Lichtenberg, Isabel Fryszberg)
Slobodka consists of accordion and fiddle (father and daughter). Could be accordion alone, or add bass and more. Plays in Baltimore or Pittsburgh area. Definitely the leading Klezmer band in West Virginia. Traditional klezmer at a lower volume and cost; great for smaller parties or event. Tel: (304)376-4253. (Paul Becker)
So Nu is a NYC-based four-piece band (fiddle, accordion, tuba, percussion) that plays energetic and soulful klezmer and Balkan tunes that are equal parts virtuoso musicianship and pure enthusiasm. So Nu is composed of professional musicians who have toured the world honing their art. The band is available for weddings, bar mitzvahs, celebrations of any sort. Web: www.myspace.com/sonuklezmer.
The Solomon Sisters, based in London, UK, perform an eclectic mix of cabaret, comedy and glitz, with live klezmer band, choreographed showstoppers and special guest spots. Experience the distinctive blend of these two powerful voices as sensational sister duo fuse melodies and harmonies from the golden age of New York's Yiddish theatre. The Solomon Sisters have played at prestigious venues including Royal Festival Hall, Soho Theatre, Hackney Empire, Makor (New York), Pleasance Theatre (Edinburgh Festival Fringe 2007) and Theatre Royal, Winchester. They have also performed live on BBC London Radio. Tel: 07900 053470 / 07976 230346. Web: www.solomonsisters.com. MySpace: www.myspace.com/solomonsisters. (Madeline Solomon)
Blossoming from the Slavic heart of Greater Boston, the Somerville Symphony Orkestar is an all-original Eastern European Punk Funk band. The SSO beats Balkan, Klezmer, and traditional Russian music into a funk-punky pulp sure to beef up and beautify your life. The SSO spectacle is a carnivalized punk show that turns its audiences into equal parts mosh-pit and horah. Complex six-piece arrangements reign in the chaos only to explode in shuddering "fun-gasm" after "fun-gasm." Web: www.somervillesymphonyorkestar.com. (Joel Edinberg)
Soul Explosion, London, UK, is the ultimate UK function band specialising in Full Jewish repertore , soul, pop,Jazz and dinner music. Bat/BarMitzvah's, weddings, events and functions. we travel worldwide to any location. our rates are competitive and include a top DJ free of charge, if you so wish. Soul explosion will give you a memorable evening for you and your guests. Tel: (+44)0207 168 7792 or (+44) 07932 727 466. Web: www.soul-explosion.com (David Cohen)
Souls of Fire was based in Southampton, UK. I have no working contact information. An album (1998) was released "Firedancing."
The Sound and Light Cinematic Duo, based in Brighton, East Sussex, Great Britain (Merlin Shepherd/ clarinet, bass clarinet and Polina Shepherd / piano) are performing new and traditional Jewish music to accompany silent Jewish films. Currently working with the Yury Morozov Archive (Kiev) which contains some of the earliest east European Jewish films. (Merlin Shepherd)
The South Coast Simcha Band, based in Huntington Beach, CA, specializes in klezmer music, and also plays a wide variety of simcha music, including Israeli, pop standards, and jazz. We perform concerts, weddings, Bar/Bat Mitvahs, and private parties. The band's first CD, "Classic American Klezmer" was released in 2003. Web: www.scsimchaband.com. (Renah Wolzinger)
South of Delancey is back, and better than ever, with Fred Jacobowitz (clarinet), Wilma (Willie) Wallmark (trombone), Dan Wielunski (fiddle and keyboard), and Suzie Bolotin (vocals and keyboard). Our repertoire includes lively dance tunes, expressive instrumentals, and Yiddish theater songs, folk songs, and ballads, with side trips into Eastern European and other musical traditions. We provide music for weddings, bar and bat mitzvahs, and all your occasions. Tel: 919-929-7346. (Suzie Bolotin)
Spiel Azoi is a 6 piece band based in Melbourne Australia. Vocals, piano accordian, violin, bass, clarinet and drums. Playing traditional klezmer tunes and Yiddish folk songs Spiel Azoi are a vibrant, youthful, humourous and musically inspiring group. Spiel Azoi give life and refresshing originality to the traditional music of the Eastern European Jews and as a result both the musicians and the music are growing into something unique and special to Australia. We have released two albums: Shtetl, 2001, and Shpilkes, 2004. Web: www.spielazoi.com.au. (Sarah Mandie).
Spiel Klezmer Spiel
is a klezmer band, founded in 2006 in Oegstgeest, The Netherlands, that consists of four young people (14-18) who like to make music with each other. We're playing clarinet, violin, trumpet, accordion, soprano saxophone, baritone tuba and more. Web:
www.spielklezmerspiel.nl
. (Aldert Prast)
Channe Nussbaum & Spielniks is a Danish jidpop/klezmer band which in 1997 released the first Danish klezmer CD, "Copenhagen klezmer", on the Danish record label Danica Records. The musicians are: Channe Nussbaum: lead and background vocals; Peter Jessen: clarinets; Jens Tolsgaard: accordion, mandola, piano; Torben Steno: guitar; Peter Nielsen: bass; Morten Krøgholt: drums, percussion. The press in Denmark received the first Danish klezmer CD, a style of klezmer fused with jazz and pop which they call "jidpop," with undivided enthusiasm. The six most important newspapers reviews were thrilled and filled with superlatives. All of the papers emphasised Channe Nussbaum's remarkable voice and Peter Jessen's melancholy and melodious clarinet on top of the steady dynamically grooving backing band. The band has this year been in Germany and is later going to Sweden and England. Around New Year Channe Nussbaum & Spielniks won a major Danish music award. In 1998 the group's second album, "Jidishe Mame" was released. If you are interested in more information or how to find your nearest dealer please contact: Danica Records, OH Musik ApS, Jersie Strandvej 5, P.O. Box 49, DK 2680 Solrød Strand, Denmark. Tel: (+45) 5614 6644, Fax: (+45) 5614 6667.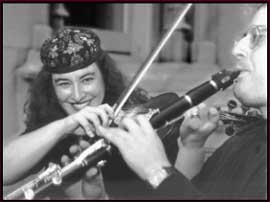 Sruli and Lisa, Westchester, NY, have done klezmer workshops with kids and adults for years. They also play simchas of all sorts. Fixtures at KlezKamp, KlezKanada, they have released two children's albums (Sruli and Lisa Oy Vey! Chanukah!, 1999, and Young People's Klezmer Workshop / Oy Vey!, 1997). They have also released Sruli and Lisa's Klezmer Dance party, 2002. Tel: 914-576-0936 / fax: 914-235-4064. Web: www.sruliandlisa.com. (Lisa Mayer)
Stark & Frejlach. We simply love klezmer music! We are from Linz (Austria)—the European capital of culture 2009. Web: www.kass.at/klezmer/Stark+Frejlach.html. (Peter Kass)
Steel City Klezmorim has been performing around Pittsburgh for the last 7 years. In addition to playing weddings, b-mitzvahs, upshorns and pot-lucks, they've been increasingly busy performing concerts and festivals, most recently opening for Brave Old World. Gantze macher Henry Shapiro is also known as the "local king of swing" and performed this past summer at the Montreux Jazz Festival in Switzerland. Web: https://henryshapiro.com/klezmer.htm. Tel: 412-608-8566. (Henry Shapiro)
Stempenyu's Dream, based in Cleveland, OH, is dedicated to performing compositions by Steven Greenman. The ensemble's first CD, "Stempenyu's Dream", was released in 2004. (Steven Greenman)
The dynamic Strauss/Warschauer Duo offers a panoramic experience of Eastern European Jewish music, song and culture through virtuoso, accessible, interactive concert performances and grass roots educational programs. Deborah Strauss and Jeff Warschauer are two of the most beloved performers and teachers in the international klezmer and Yiddish music scene. Strauss and Warschauer's performances are an integrated and intimate blend of songs, translations and instrumental music—grounded in tradition, yet thoroughly contemporary. They draw from klezmer, Yiddish, Hasidic and liturgical music and culture, adding their own original compositions and song settings. As they sing and play in shifting combinations of violin, guitar, mandolin and accordion, they create a dynamic atmosphere with an exceptional range of feeling—from delicate and refined to exuberant and foot-stomping. They were both long-time members of the Klezmer Conservatory Band, and have performed with violinist Itzhak Perlman on film and in concert. As the Strauss/Warschauer Duo, they have performed to overwhelming acclaim in such diverse venues as the Philadelphia Folk Festival, the Jewish Culture Festival in Cracow, the Folksbiene Yiddish Theater in New York City, and the Art of Yiddish in Los Angeles with Theodore Bikel. They lead workshops and classes throughout North America and Europe, are on the faculty of KlezKamp, KlezKanada and KlezFest at the University of London, and are curators of the Columbia University Series on Klezmer Music and Yiddish Song. They released a CD, Rejoicing in 2005. Web: www.klezmerduo.com. (Jeff Warschauer)
Sukke, the European Klezmer Band. Featuring Merlin Shepherd (Great Britain) on clarinet, Sanne Moericke (The Netherlands) on accordion, and Heiko Lehmann (Germany) on bass and vocals. Yiddish instrumental music and original songs with lyrics by Michael Wex. Additional instruments: guitar, mandola. Web: www.sukke.de. First album, Introducing Sukke, 2004. (Heiko Lehmann)
Alicia Svigals' Klezmer Fiddle Party Band, New York, New England. Violinist Alicia Svigals, a founder of the Klezmatics and the world's leading klezmer fiddler, now fronts the world's greatest wedding and bar/bat mitzvah band, Klezmer by Alicia Svigals, LLC. Her band plays klezmer, simcha dancing music, Israeli music, and high-energy rock, jazz, R& B; dance leaders, djs, mcs etc. also available. Alicia has played with and written for violinist Itzhak Perlman, the Kronos Quartet, playwrights Tony Kushner and Eve Ensler, the late poet Allen Ginsburg, Robert Plant and Jimmy Page of Led Zeppelin, singer/songwriter Debbie Friedman, Hasidic superstars Avraham Fried and Lipa Shmelzer, and many others. She has appeared on David Letterman, MTV, Good Morning America, PBS' Great Performances, on NPR's Prairie Home Companion, Weekend Edition and New Sounds, and on the soundtrack for the L-Word. Tel: 1 877 KLEZMER. Web: www.aliciasvigals.com. (Alicia Svigals)
The Sway Machinery: Hidden Melodies of the Jews of New York City. Longtime collaborators Jeremiah Lockwood (Balkan Beat Box, Carolina Slim) and Tomer Tzur (Beat the Donkey, Pharaoh's Daughter) have teamed up with friends from Antibalas Stuart Bogie, Colin Stetson and Jordan McLean to present an audacious descent into the depths of Jewish soul music. Calling upon the sounds of Malian guitars, Saharan beats, Afro-pop horns and the BLUES, The Sway Machinery goes knocking at the gates of prayer with muscles swollen and eyes clenched. Tel: (718) 267-0386. Web: www.swaymachinery.com, www.myspace.com/theswaymachinery. (Jeremiah Lockwood)
Szélrózsa's repertoire ranges from Gypsy and Klezmer to Macedonian, Romanian, Israeli and to beautifully sung Hungarian, Yiddish, Ladino, Russian and Czech, played on a variety of instruments including flute, fiddle, clarinet, mandolin, guitar, bass, and accordion. Our singer, Katalin Pazmandi, is a native of Hungary and our guitarist, Mirko Gabler of the former Czechoslovakia. Our fiddler, Harry Sweet was raised in a Yiddish speaking household. The name is a Hungarian word that translates into "Wind Rose" which is the compass markings on a map. While we don't play exclusively Jewish music, we play a lot of it. We are located in the Hudson Valley of New York. Tel: 845 744 6390. Web: szelrozsa.org. (Harry Sweet)